Interview with Jared Leto

Did you know Jaco's work before doing this movie?
- I heard a lot of beautiful things about it but I had never seen his movies. I just knew the titles. It was a real pleasure to discover his work, I was very impressed by his movies and his directing.

How did you get on this movie?
- I saw Jaco for the first time at the end of a concert I was doing in Utrecht, Netherlands. I was told about him coming just as I was going on stage. I had read the script a few months before and I was moved by the story. Thinking again about the quality of the writing and the strong feeling I had while reading the script, I immediately told him he was great and that of course I would do it.

How did you react to the script?
- I was literally astounded. It may sounds a bit cliché but in my opinion, Jaco is a real genius. His script is mind-blowingly complex and smooth/fluid. What he writes, what he shares is unusual, original and unique. He is far from all conformity/conventionality, far from the hollywood clichés I usually read. For an actor, it's a priceless gift to be able to work with him.

How would you describe your character?
- Mr. Nobody is everybody and nobody at the same time. An illusion. A dream. He represents love, hope, fear, life and death. It's without any doubt the most complex character I have ever played. It was a challenge to keep all those lives in one character during the shooting, without getting lost.

How did you prepare for the movie?
- I based everything on the script. I had a complete trust on what Jaco wrote. From that, I made my imagination work... It was important not to forget that all the lives where lived by one and only person. If this movie breaks a lot of rules, I'm just playing a character with a lot of different ramifications. My goal was to play 12 versions of the same person, resting upon the choices he makes. And to build the differences between all of them without getting too far from the common base. Working in the most intimate detail.

Tell us about Jaco on the set...
- We can feel that Jaco loves the actors. He knows where he's going and he is very specific when he's telling us. He is adorable and very subtle/tactful/refined/delicate. Dialogue is always open. And when I had very specific ideas on what I wanted to do, in particular in the scenes where I played a very old Nemo Nobody, he was listening and was encouraging me. I think it's during the rehearsals that I really made Jaco happy for the first time. He saw that I understood what he wanted and that my suggestions were only here to extend his ideas/goals. We were doing the same movie. So, in the end, it's not mine but Jaco's performance that we see on the screen! We all did this movie for him. It's a real artist. Someone humanely and professionally rare.

How did you live this shooting?
- It was a really long shooting. We had to quit our everyday life for 6 or 7 months. Some days, I had to juggle between 4 different Nemo Nobody! In retrospect, I would say that my approach was quite scientific, very cerebral so I wouldn't get lost. Then, obviously I was able to count on Jaco's vision who supports you. It was a magical time to live, without drama, or insurmountable issue, with a real smoothness/flowingness. On the set, there was a sensibility that I had never experienced before. Most of the crew had already worked with Jaco on his past movies so we could feel a strong respect for his work. I'll say it now and say it again, it's a wonderful girl to have been invited in this family to live this adventure.

Which scene were you the most scared of:
- What was worrying me the most was to play Nemo married to Elise (Sarah Polley). It's the character the farthest away(?) from what I am. Jaco wrote this character like someone who doesn't know what to do, or how, or when, who feels helpless in front of his wife's distress. I was a little lost in those scenes. Besides, since I don't have any children myself, playing Nemo as the father of 3 kids was anything but easy. It was in those moments that I was very nervous on the set. I didn't have any bearings(?). But Jaco was very patient with me and he helped me a lot.

If you had one image to remember of this adventure, what you it be?
- There are so many. We shot in Brussels, Antwerp, Montreal, London and Berlin. It's the kind of experience that happens once in a lifetime, and I could never thank Jaco enough for his invitation and his trust. I hope that the movie is everything he wished for, it was a real pleasure to work with him. If Jaco is happy then I'm happy!
And some new stills: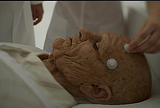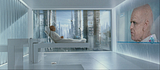 Source for both
and a MASSIVE thank you to
joliechose
for translating the interview.